We adopt several measures to make our place look aesthetically appealing. From decking up your yard to adding new furniture to making construction changes, there are several ways to enhance the aesthetics of the place.
For the maximum utilization of your outdoor structure, you can take certain steps that ensure that it becomes a space you can use any time of the year. When you build a patio, a deck, or a terrace in your garden and intend to use it all year round, you may not be able to do so as it is essentially an open structure and is exposed to the elements like the sun, rain, and snow. Pergola is the perfect solution to your woes if you cannot use the outdoors as much as you would like. Other structures similar to a pergola are an arbour, a gazebo, and a trellis.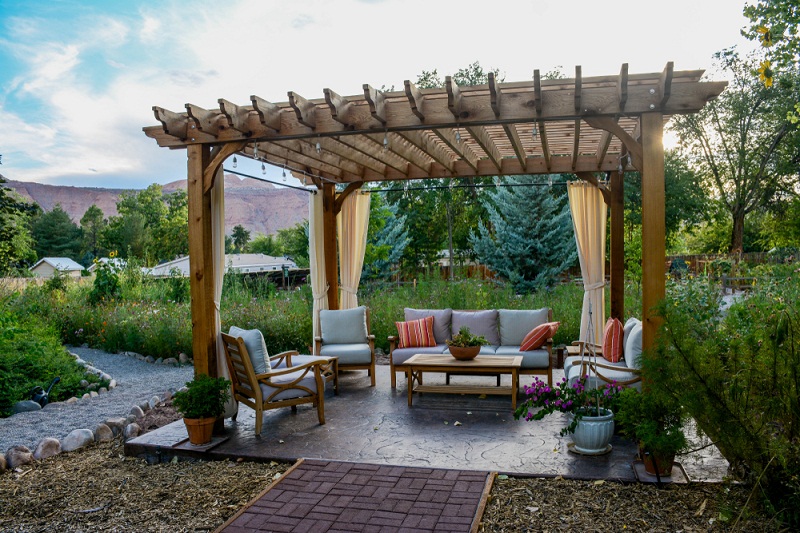 What is a pergola?
A pergola is a narrow tall structure with four pillars or columns with a roof. The most common roof design has a framework of cross beams giving it a thatched effect. They can also be used to grow climbers or hang ornamental plants that beautify the space even more.
Benefits of a pergola:
Creates an extension of the indoor space: The pergolas attached to the house extend the indoor space seamlessly into the outdoors. You can efficiently use it both indoors and outdoors, making your home more spacious.
Adds functional value to your outdoor structure: By providing shade to the outdoor structures, you can transform them into cosy nooks in the middle of your garden. This can be done for the stand-alone pergolas. Building a pergola next to your pool ensures that while you can beat off the heat by splashing around, you do not need to sit in the harsh sun outside the pool.
Enhances the appeal of your home: A pergola is a stunning addition to your garden or backyard, increasing your home's aesthetic appeal and considerably enhancing the house's resale value.
Available designs for a pergola:
Today, people are increasingly willing to experiment with the materials used, the look, and how they can stand out. Some popular pergola designs that are found in Australian homes are mentioned below:
Timber is one of the most commonly used materials. To give an all-time classic look to your pergola, you can paint the timber white. Adding lattices on the roof, besides enhancing the look, offers extra protection. To add colour, you can use plants and multicoloured upholstery.
Using steel, iron, or aluminium slats adds strength and durability to the structure. Design options are endless, and you can select one that appeals to your sensibilities and stands out as a stunning piece.
Roofs of pergolas designed as louvres give you a choice of adjusting the roof as and when you feel the need to. The louvres can be operated manually or with a remote. You can be protected by pulling them in during the peak hot hours. However, when the weather is pleasant, and you want the natural light to seep in, the roof can be retracted.
Planting climbers not only provides more shade, but the canopy of greenery over the roof also gives it a soothing effect. To add to the effect is the sweet smell of the flowers that you inhale sitting there. Sitting under an umbrella of beautiful flowers is a heavenly experience if the climbers are flowering plants.
A cantilevered pergola gives out a modern minimalistic look. A perfect combination of shade and light creates an area that is well-lit and shaded.
A dark shade-cloth roof attached to the columns made of dark-stained timber is inspired by Asian gardens and makes the outdoors look exotic.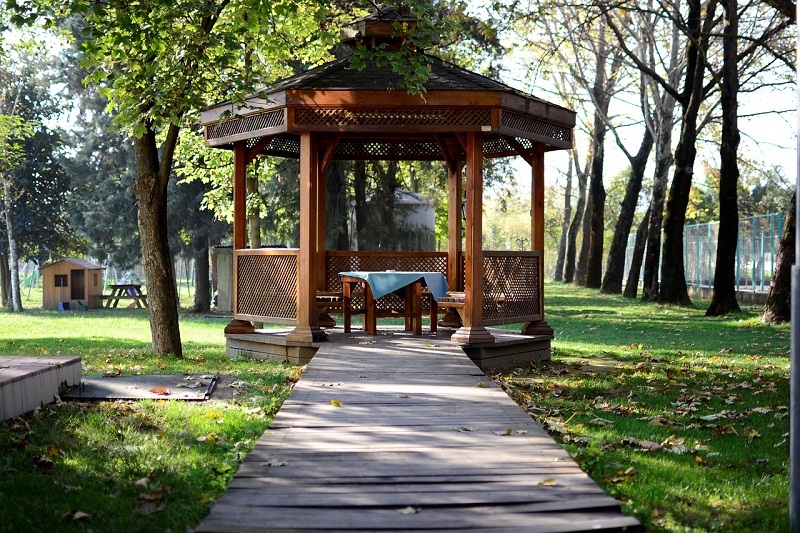 You can let your imagination run wild when designing the pergola in your home. You can choose from multiple lighting options, such as fairy lights, chandeliers, and paper lanterns, and experiment with colours and textures to create your unique space.
Conclusion:
Whether you keep the pergola as a basic structure or enhance its appeal by creating something stunning is your choice. You must be able to enjoy the outdoor space to the maximum; making it stunning is a bonus.